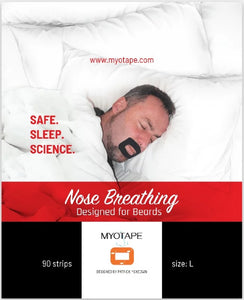 MyoTape is a specialty-designed mouth tape to safely retrain our habit of nose and nasal breathing during the day and especially at night when you are sleeping.
Science has proved that taping your mouth while you sleep you will:
Prevent Mouth Snoring

Improve Sleep Apnea and support CPAP

Enhance Mental Focus, Help with Sleep  Quality
Increase Energy Levels During the Day
Improve Dental Health
Designed to be suitable for all types of beards and facial hair
Just like the Myotape for Adults, this MyoTape Nose Breathing For Beards is an innovative mouth tape designed especially for anyone with facial hair to ensure comfortable nose breathing during the night while you sleep.
This specially designed mouth tape is made with soft, hypoallergenic cotton made with skin-friendly adhesive, making sure with a secure fit preventing any kind of irritation on your beard, facial hair or skin. MyoTape is suitable to be used with CPAP machines, providing a complete solution to improve your sleep and enhance health and general well-being.
Start your journey towards improving your sleep quality and health with many great benefits of nose breathing. MyoTape helps reduce mouth snoring and will also help improve mental focus while also supporting those who are experiencing sleep apnea.
Myotape for nose and nasal breathing is not only designed to improve your sleep quality but also to reduce fatigue during the day as well as improve dental health. Applying Myotape every time is a  simple process only involving removing then stretching the tape , securing around your mouth, and can be easily removed. MyoTape can easily be integrated into your nighttime routine without all the fuss and hassle.
Start taking control of your sleep routine and improve your well-being with MyoTape Nose Nasal Breathing For Beards. Transition to nose breathing during sleep for a more peaceful and restorative rest at night. 
Dimensions of Large MyoTape: Overall size 50mm high x 70mm wide. Opening for the lips: 16mm high x 40mm wide. (Adult Large Size)
Each pack contains 90 strips