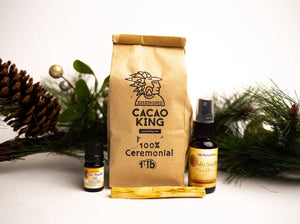 Cacao King's 100% Pure Raw Ceremonial Cacao Australia is premium quality heart opening cacao suitable for ceremonial settings or even at-home use. Nothing is added as it is unsweetened and is ready to be used for all occasions.
Cacao King's Raw Ceremonial Cacao is made from the finest Peruvian Criollo cacao nibs fermented and sundried in Peru by family operated farms.
Benefits of Cacao King's 100 Pure Raw Ceremonial Cacao:
High in antioxidants, essential amino acids, vitamins and minerals
All natural anti-depressant
Natural aphrodisiac 
Improve focus and concentration as well as mental clarity
Improve blood circulation
Natural stimulant
Nutritious superfood
Ingredients: 100% Ceremonial Grade Cacao from Peru
Net Weight: 453g (16oz)
†These statements have not been evaluated by the TGA or FDA. This product is not intended to diagnose, treat, cure or prevent any disease.
 We are the only provider of Cacao King's Ceremonial Cacao in Australia!