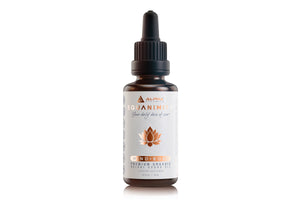 A 100% all-natural supplement that can put you in a state of blissful Zen
Alpha Dynamics Australia Equanimity Reishi Spore Oil is your daily dose of Zen. Packed with premium Reishi Spore Oil with a potency of up to 300 times more than the #1 superfood of the East.†
Reishi Mushroom is the #1 herb in TCM
The Reishi Mushroom (also known as Ganoderma lucidum) is one of the most potent tonic herbs known to mankind. Reishi possesses over 800 known active biomolecules. It is a rare and superior herb that may be taken on a long-term basis supporting optimal health. It has been dated since the early Eastern civilisation that Reishi is known to be consumed because of its wide range of health-promoting benefits.
Regular consumption of Reishi mushrooms enhances the support of the functioning of our whole body system, improving the immune system, and helping to promote healthy blood circulation, digestion, metabolism, reducing fatigue, enhancing alertness, etc., in normal healthy individuals.†
Alpha Dynamics Equanimity Reishi Spore Oil uses the most advanced method of extraction: CO2 extraction which results in a high and effective, clean, and premium product.
Ingredients: 100% Organic Reishi Spore Oil
Benefits of Alpha Dynamics Equanimity Reishi Spore Oil†:
Achieve Optimal Well-being
Improving Awareness
Enhancing Calming Effects
Improve Flow State
Support Immune System
How to Use:
Add one drop from the dropper of Alpha Dynamics Equanimity Reishi Spore Oil straight into your mouth (preferably under the tongue), or to your favourite beverage 
Serving Size: 
Each Alpha Dynamics Equanimity bottle contains 30ml of Reishi Spore Oil. Each drop from the dropper of Alpha Dynamics Equanimity contains approximately 500mg.

It is recommended to take 1 drop of Reishi Spore Oil per day for best results or whenever you need to Zen. 
This product contains approximately 60 serves (500mg per serve)

Storage Suggestion: 
Please store Alpha Dynamics Equanimity Reishi Spore Oil in a cool dry place (moisture free)
Alpha Dynamics Australia Equanimity is an adaptogen oil made with premium grade and sustainably farmed organic Reishi Spore Oil. No fillers and no additives.
†These statements have not been evaluated by the TGA or FDA. This product is not intended to treat, diagnose, cure or prevent any disease.