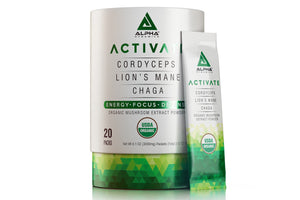 Activate is an organic mushroom blend of Cordyceps mushroom extract, Lion's Mane mushroom extract and Chaga mushroom extract. Start your day feeling great with this amazing blend of premium adaptogens. Start improving your life with this energy and clarity boost while supporting your body's immune system.† 
Alpha Dynamics Australia formulated this adaptogenic mushroom mix with 3 of the world's most potent tonic herbs from Asia† : Chaga, Lion's Mane and Cordyeps. This blend is made 100% natural and organic with no added fillers and additives.
Benefits of Alpha Dynamics' Activate†:
Boost Energy Levels
Improve Mental Focus and Memory
Incease Immunity Support
Ingredients: A blend of Organic Cordyceps Militaris Extract with Organic Lion's Mane Extract and Organic Chaga Extract
How to Serve:
Add 1 individual sachet of Activate mushrooms to your tea or coffee, smoothie, water (hot or cold) or any beverage of your choice
Serving Size:
Each Alpha Dynamics Activate comes in 20 individual sachets. Each sachet contains a potent 3000mg of mixed Cordyceps, Lion's Mane and Chaga mushroom extract. We recommend taking 1 sachet per day for optimal results
Storage Suggestion: 
We recommend storing Activate in a dry and cool place for maximum shelf life
Alpha Dynamics Australia Activate extracts are:
USDA Organic Certified
Non-GMO
Vegan friendly
Gluten-Free
†These statements have not been evaluated by the TGA or FDA. This product is not intended to diagnose, treat, cure or prevent any disease.