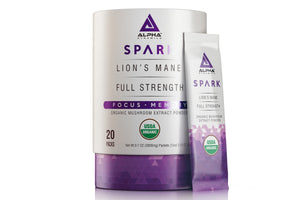 Introducing Spark by Alpha Dynamics Australia. Spark is one of the world's most potent and effective nature's original nootropics using 100% Lion's Mane mushroom. Alpha Dynamics Spark will help you improve your focus, memory and creativity. Lion's mane works as a pre-biotic helping you to feel amazing with an improved mood!†
This all-natural nootropic is packed with the premium grade Lion's Mane fruiting body with no added fillers, additives, or sweeteners and grown with USDA Organic standards, 100% natural and organically sourced.
Ingredients: 100% Organic Lion's Mane Mushroom Extract 
Benefits of Alpha Dynamics' Spark†:
Improving Focus
Improving Memory and Mental Clarity
Increase Creativity and Mood
How to Use:
Add one sachet of Spark mushroom extract to your coffee, tea, smoothie, water or any beverage of your choice
Serving Size: 
Each Alpha Dynamics Spark contains 20 individual sachets. Each sachet is a recommended daily serving size packed with a potent 3000mg of premium organic Lion's Mane mushroom extract

. It is recommended to take 1 sachet per day for the best results.
Storage Suggestion: 
Please store Spark Lion's Mane in a cool dry place (without moisture)
†These statements have not been evaluated by the TGA or FDA. This product is not intended to treat, diagnose, cure or prevent any disease.